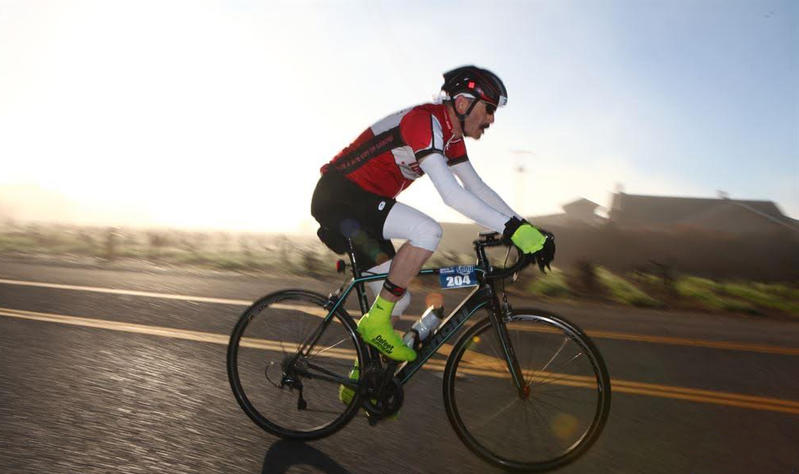 "It is great to have partners who make this journey possible, whether they be fellow riders or an awesome shop like Sugar Wheel Works!"
Which comes first, the bike or the wheels? When you love your wheels as much as Bob Corman loves his Sugar wheels, you design a bike to match the hoops.
"I was not willing to give up my new Sugar wheels because of disc brakes so I bought a caliper brake bike."
Bob rides regularly in the hilly regions around his home in Mountain View, California, on the southern end of the San Francisco peninsula. When he's not out on weekly intervals or weekend rides with friends, he digs in on 500 mile relay races, 24 hour solo races, duathlon relays, centuries and double centuries. Whatever keeps him active and challenged.
ASKING THE RIGHT QUESTIONS
When shopping for new wheels, Bob says he called a variety of shops but it wasn't until he talked with Sugar that everything just felt right.
"Jude took a lot of time to ask a bunch of questions and help me determine the right wheel."
SUGAR WHEELS FOR THE WIN
Bob was determined to have one set of wheels to cover all of his needs, which meant they probably wouldn't be the lightest wheels possible – and Bob was okay with that.
"I figured if a few more spokes would affect my speed, then I was not training right anyway!"
So how did they turn out?
"I trust these wheels. They seem bomb proof; they ride and roll really well. While they may not be the most aero nor the lightest, they have proven to be awesome!"
So awesome, in fact, that Bob rode those Sugar wheels right up to a first place podium earlier this year.
DECISIONS, DECISIONS
Bob isn't simply a casual rider, many of his life's decisions revolve around figuring out which rides he can work into his schedule. That's why we're so glad we could provide the best wheels to meet Bob's busy riding style.
"I just came back from eight consecutive days of riding in Spain. I have a duathlon relay coming up and am considering a return to the World TT Championships in Borrego Springs."
BOB'S PHILOSOPHY
"Cycling is about personal relationships: with your teammates and friends, your coach, yourself, and yes, your equipment. One's relationship with cycling is ever evolving as one moment you might think doing well at an event is the most important thing and the next just wanting to ride for the sheer joy of it. It is great to have partners who make this journey possible, whether they be fellow riders or an awesome shop like Sugar Wheel Works!"