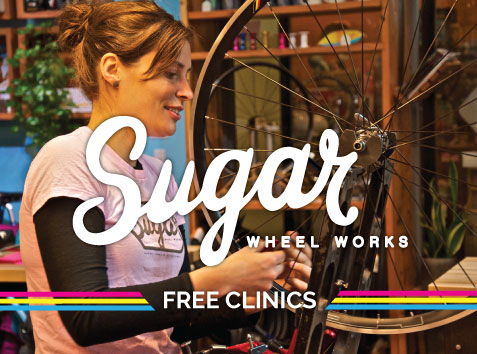 Sugar Wheel Works is proud to offer free clinics to help you get to know your wheels. Each clinic offers the chance to learn about different elements of wheels and wheel building. There will be time to ask one-on-one questions of the Sugar Wheel Works team, including founder and Master Wheel Builder Jude Gerace.
We call these No Dirty Hands Clinics because while your brain might get full and messy, your hands will stay perfectly clean. Due to the size of these clinics, students won't be engaged in hands on learning. If you are interested in more indepth learning, please sign up for one of our classes.
DETAILS
Second Wednesday of the month from February through June
6:15-7:45pm
Free
Advanced registration is encouraged due to limited space.
Attendees will receive a coupon for $50 off a Sugar Wheel Works custom wheel set.
GETTING THERE/PARKING
Sugar Wheel Works is located at 3808 N. Williams, #134.
Enter either main door of the Hub Building and walk to the back hallway.
Ample bike parking is located along the Williams sidewalk, or in the bike corral at the north end of the building.