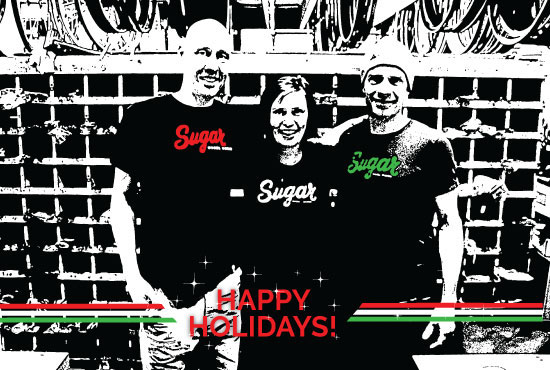 From our shop here in Portland, Oregon, we wish you a happy holiday season and we look forward to a bright 2019.
As we close out the year, we wanted to take some time to reflect upon 2018.
Let's kick it off with a note from Sugar Wheel Works founder and owner, Jude Gerace.
"From teaching classes to helping customers find just the right set of wheels favoring durability, aesthetics, and/or performance we have enjoyed helping you throughout 2018! Bike standards in the industry are changing quickly and are sometimes uncertain so we've been careful to navigate the wheel conversation keeping your current bike in mind and planning as best we can for any future bikes.
This last year brought on new conversations about tire and rim combinations that were both intriguing and exciting as it allowed many of our riders to find just the perfect ride.
But do you know what my favorite part about being a wheel builder is? Hearing about you accomplished your goals, your dream rides/tours, how you set a new PR on a favorite ride or how you beat your riding buddy to the top of the hill! What bicycles bring into our lives means just as much to us here at the shop as building your wheels.
I'm also grateful for an incredible set of co-workers. The synergy and dedication to perfection with this crew is inspiring to me. I work with the best.
This winter I'm hoping to log more gravel miles in preparation for an incredible spring an summer in the PNW.
Wishing you and yours a happy, healthy, and adventure filled new year!"
~ Jude
2018 HIGHLIGHTS
We partnered with Gladys Bikes, Breadwinner Cycles and Golden Pliers to raise funds for Trans Lifeline, a national organization that supports trans people. The event sold out in mere hours.
We supported Swift Summit 200/100 and Jude went along for the awesome ride.
We provided wheel support at Mt. Bike Oregon, a mt. bike festival in the woods of Oregon. We loved meeting dirt lovers from all over the world at this cool event.
We brought an array of amazing storytellers to the stage for our annual Live the Revolution event,. The packed theater raised thousands of dollars for Safe Routes to Schools.
We launched the First Annual Internatiomal Wear Your Sugar Day. We loved seeing Sugar Wheel Works fans from all over the world flaunting their super comfy Sugar t-shirts for a day and declaring their love of hand built wheels. 
TECH HIGHLIGHTS
The biggest news is Shimano's new 12 speed micro spline which means you have a wider gear range for all the shredding.
Continental just announced that the GP4000s (A roadie favorite) is going tubeless!!  We're excited to see how that will play in the new year! 
RIDE HIGHLIGHTS
Jude has been mountain biking a lot more this last year and has fallen in love with classic PNW trails like Ape Canyon and Fifteen Mile. She says they are "both outstanding rides that showcase the vast beauty of the PNW."  Jude says she has also been playing in Moab and wherever she can get some dirt. 
 
Nick has been doing a similar thing this year too! 
HAPPY HOLIDAYS!
We are excited and grateful for you, our customers, and your love of riding. As a small business we appreciate all the support from our community. We look forward to doing some more great work in 2019.