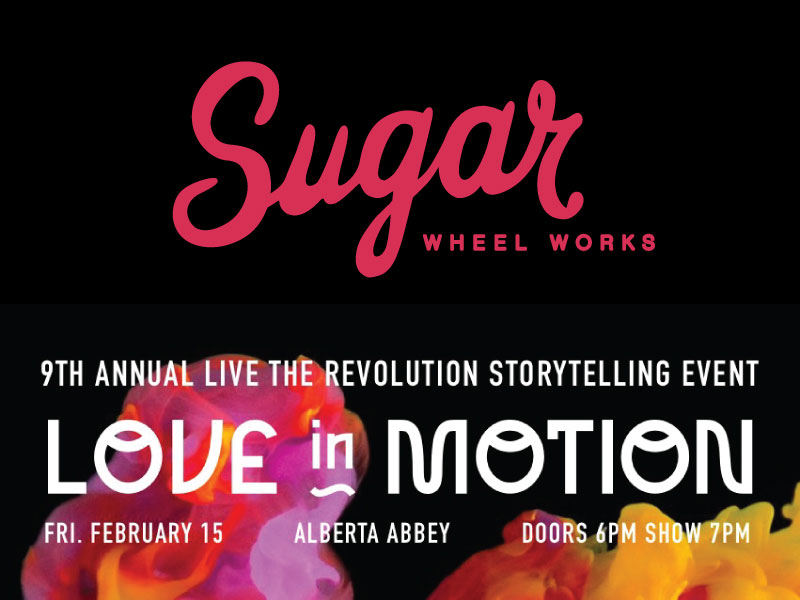 Hosted by Leah Benson, Gladys Bikes + Jude Gerace, Sugar Wheel Works
JOIN US FOR OUR ANNIVERSARY PARTY!
Live the Revolution: Love in Motion is a night of bicycle storytelling told live from the stage at the Alberta Abbey Theater in Portland.
Every year, we pack the theater with bike lovers to celebarte our love of bikes and raise funds for Safe Routes to School through The Street Trust, our regional biking and walking advocacy organization.
Come early for food and drink, to check out the generous raffle prizes and get a good seat.
MEET THE STORYTELLERS
Adnan Kadir – USAC Level 1 Cycling Coach and co-founder of VeloPro, the world's first dynamic and adaptive cycling training software system. Cycling has been his longest relationship
Eva Frazier – a 13-year veteran of the retail bike industry. Her ideal future has more density, more equality and a lot fewer cars.

Alberto Moreno – Among many other admirable associations, Alberto is the Director of the Office of Equity and Multicultural Services for the Department of Human Services. He is also a culturally reflective poet with a passion for photography and a recovering boxer from Chicago who loves to ride his 60-year-old vintage bike.
Steph Routh – Director of the Portland Underground Grad School and the recipient of the 2010 Susie Stephens Joyful Enthusiasm Award from the National Alliance for Biking and Walking.
TICKETS + INFO
This event may sell out. Rally all of your friends and get tickets today!