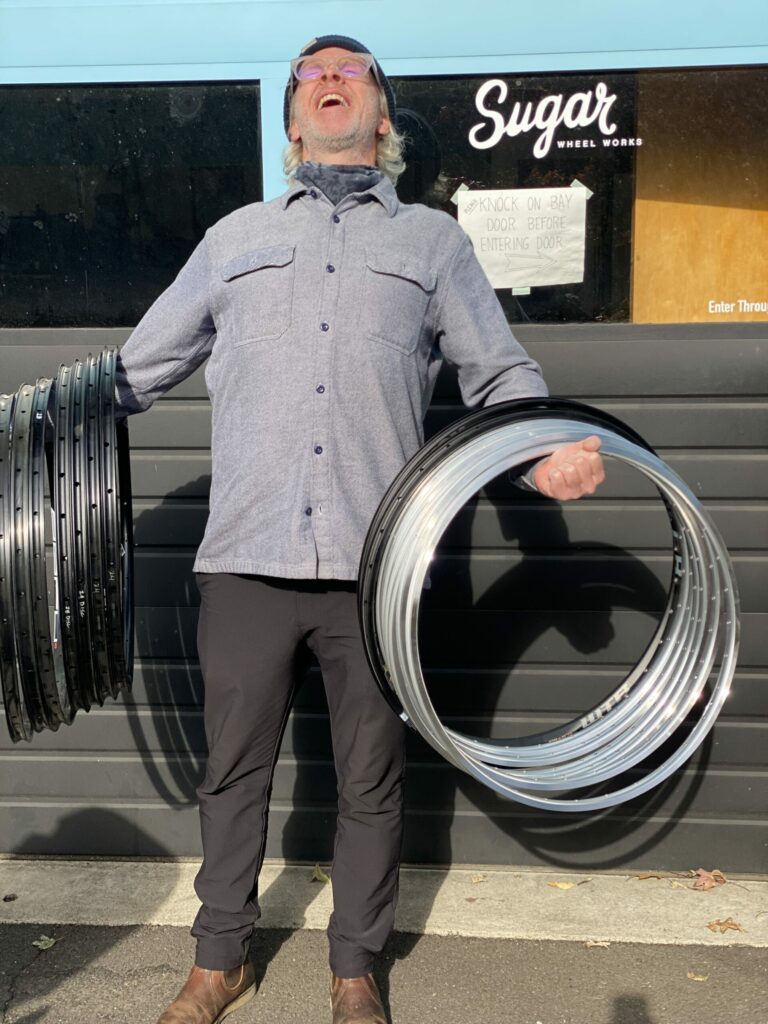 We are brimming in rims at Sugar and now is your chance to save on a new alloy wheel build! 
Up to 40% off select in-stock alloy rims!
10% off any rim special orders! 
Lots of options in 650b, 700c and various widths and hole counts. Rims from Stans, Rene Herse, WTB, Astral, Velocity, Knight and more. If we don't have it in stock, we can order it up and still offer you a 10% discount to build a dream wheelset. 
We specialize in custom, hand-built wheels. We're happy to lace any rim to any hub to match your needs and style. Give Sugar Wheel Works a call today for a fresh wheelset or single wheel to keep you rolling through the winter.
Below is a complete list of in stock alloy rims with specs and pricing. Don't see what you want, give us a call.  
503-236-8511  or  info@sugarwheelworks.com
| | | | | | | | |
| --- | --- | --- | --- | --- | --- | --- | --- |
| RIM MODEL | INTENDED USE | RIM SIZE | HOLE CNT | QTY | MSRP | DISCOUNT | SALE PRICE |
| DT Swiss RR511 Disc 32h |   | 700c | 32 | 2 | 128 | 40% | 76.80 |
| DT Swiss RR 411 rim brake |   | 700c | 28h | 1 | 128 | 40% | 76.80 |
| H Plus Son TB14 |   | 700c | 28h | 4 | 99 | 40% | 59.40 |
| Astral Serpentine Carbon | MTB | 700c | 28 | 1 | 599 | 20% | 479.24 |
| Radiant Disc | RD | 700c | 24 | 2 | 149 | 20% | 119.24 |
| Backbone alloy | MTB | 27.5″ | 28 | 2 | 149 | 20% | 119.24 |
| Reserve 27 Carbon | DIRT/MTB | 27.5″ | 28 | 2 | 599 | 20% | 479.24 |
| DT Swiss M502 | DIRT/MTB | 650b | 28 | 1 | 105.9 | 40% | 63.7 |
| DT Swiss XM421 | DIRT/MTB | 650b | 28 | 2 | 150.9 | 40% | 90.7 |
| WTB KOM Light i25 | | 650b | 32 | 2 | 108.95 | 40% | 65.53 |
| WTB KOM Light i25 | | 700c | 32 | 1 | 108.95 | 40% | 65.53 |
| WTB Asym 29 i29 | MTB | 700c | 32 | 1 | 108.95 | 40% | 65.53 |
| Stans Arch ZTR MK3 | MTB | 27.5″ | 32 | 2 | 100 | 40% | 60.16 |
| Stans Crest ZTR MK3 | MTB | 700c | 28 | 2 | 100 | 40% | 60.16 |
| Stans Arch ZTR MK3 | MTB | 700c | 28 | 1 | 100 | 40% | 60.16 |
| Knight Road Disc alloy | RD | 700c | 24 | 2 | 125 | 40% | 75.16 |
| Pacenti Forza Disc | | 700c | 28 | 1 | 120 | 40% | 72.16 |
| Pacenti Forza Disc | | 700c | 24 | 1 | 120 | 40% | 72.16 |
| Velocity Blunt35 black | MTB | 650b | 40 | 1 | 126 | 20% | 100.84 |
| Velocity Blunt35 black | MTB | 650b | 32 | 2 | 126 | 20% | 100.84 |
| Velocity Blunt35 polished | MTB | 650b | 32 | 2 | 176 | 20% | 140.84 |
| Velocity Quill silver | RD | 700c | 24 | 1 | 148 | 20% | 118.44 |
| Velocity Quill polished | RD | 700c | 28 | 2 | 198 | 20% | 158.44 |
| Veloctiy Dyad silver MSW | | 650b | 32 | 1 | 106 | 40% | 63.76 |
| Velocity Cliffhanger black NMSW | | 650b | 32 | 2 | 104 | 20% | 83.24 |
| Velocity Blunt SS black | MTB | 650b | 36 | 1 | 126 | 20% | 100.84 |
| Velocity Blunt SS black | MTB | 650b | 32 | 1 | 126 | 20% | 100.84 |
| Velocity Blunt SS silver | MTB | 650b | 28 | 4 | 126 | 20% | 100.84 |
| Kyoto Grand Bois polish | RD | 650b | 36 | 2 | 99 | 40% | 59.56 |
| RaceFace ARC 25 Offset | MTB | 650b | 28 | 2 | 105 | 40% | 63.16 |
| White Industries G25A | | 650b | 24 | 4 | 140 | 40% | 84.16 |
| White Industries G25A | | 650b | 28 | 1 | 140 | 40% | 84.16 |