Sometimes you just need a crew to help you ride through the good times, the bad times and to keep yourself sane. The women of Team Sorella Forte know all about that. The team is on a mission to encourage women to lead healthy, productive lives through recreational and competitive cycling.
That's why we're proud to support this inclusive team, which translates as Strong Sister.
This tightly knit club of Portland-area riders knows no bounds. They're a dedicated bunch of recreational riders, racers, pros and semi-pros. They ride, they race, they hit pavement, gravel, cyclocross, short track and singletrack on long, short and fast rides. Usually pretty fast.
We sat down with President Linda Watts to find out more about what keeps this crew rolling.
THE BACKSTORY
Sorella Forte began as a race team some 17 years ago, with a group of women who wanted to encourage each other at cyclocross races. Linda says the team has continued to grow ever since.
The riders of Sorella Forte can't be stuffed into one box. In addition to their varied disciplines, they also range in skill and age, with women in their 30 to 70s showing up every Saturday for a ride.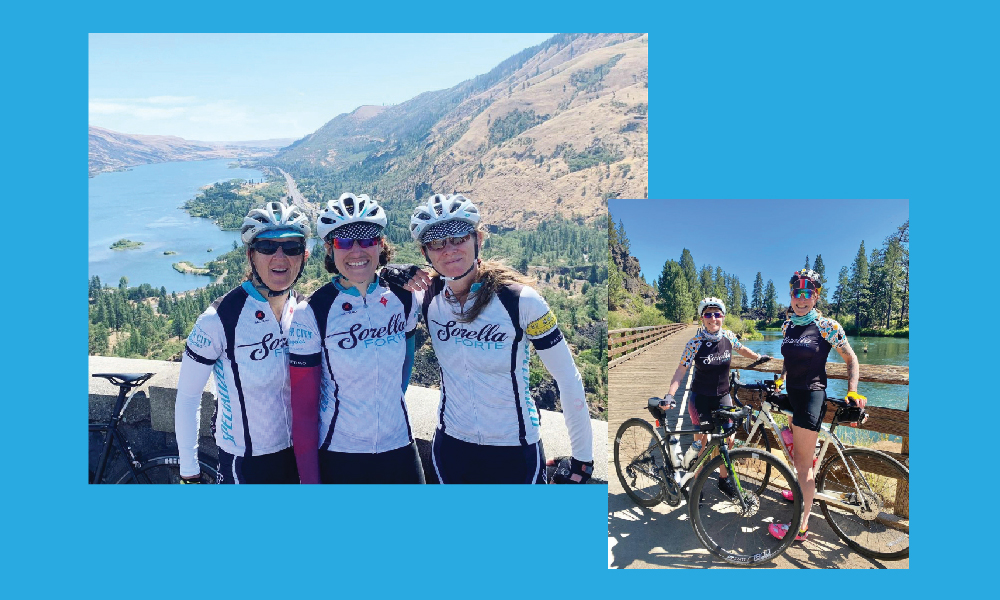 A SUPPORT NETWORK THAT MENTORS STRONG WOMEN
In some ways, the group has morphed into a mentorship club as they encourage more people to just get out there and enjoy riding.
"If someone wants to conquer their first century, we have mentors for that. If you want to race, we have mentors," Linda explains. "No matter the bike, no matter the gear, all riders are welcome. We want everyone to feel comfortable and know they are accepted. We are a support network – our whole mission is to promote women's health and fitness."

A TEAM THAT GIVES BACK
In true Portland spirit, Sorella Forte is a club that's all about giving back to the community. In fact, volunteering is a membership requirement. "As we grow, we want others to grow, too," Linda says.

SUGAR WHEEL WORKS + THE SORELLA FORTE TEAM
Sorella Forte's sponsors are an outstanding mix of regional companies, including famed illustrator (and team member) Lisa Congdon and Blue Lake Oral Surgery.
As much as we love what Sorella Forte stands for, Linda says the feeling is mutual.
"Wheels are the number one upgrade you can do to any bike to make it 1,000 times better. If going to upgrade anything, upgrade the wheels. A great set of wheels will turn you into a great cyclist and you can't get much better than Sugar Wheel Works."
Linda has a keen appreciation for Sugar, being a business founded by female leader Jude Gerace.
"Jude came out guns blazing – she knew exactly what she wanted to do and didn't compromise as she built her business up to the position of being able to merge forces with Breadwinner Cycles."
"And that's how Sorella Forte is – we won't compromise our mission of what we want to do and where we want to go."


FOLLOW SORELLA FORTE
To learn more about how you can join the club, see the Sorella Forte membership page.
Follow them on Instagram @sorellaforte for a glimpse at their fun rides and team challenges.